More Ways to Eat Well Recipes
Need some meal inspiration? Don't worry – we've got your back with these simple, tasty recipes!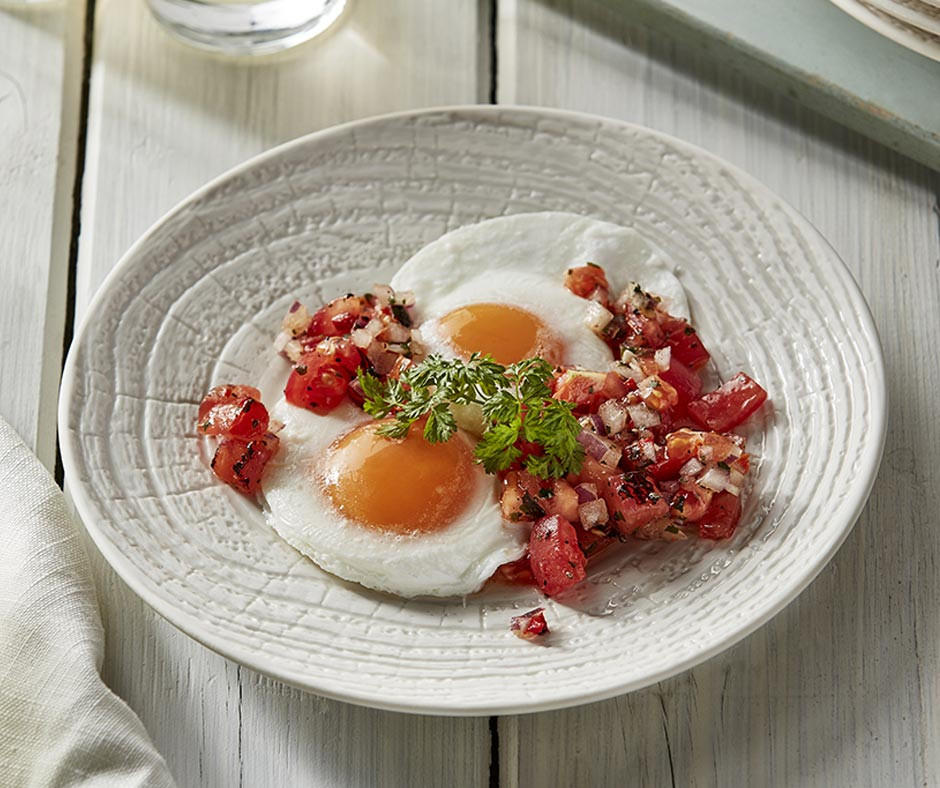 Breakfast
How do you like your eggs in the morning? We like ours with a kick! Here's how to make Mexican Eggs.
Mexican Eggs
Serves 2
Ingredients:
4 large eggs
4 tomatoes
1 red onion (diced)
1 teaspoon of frozen coriander
1 teaspoon of frozen chilli
Salt & pepper
½ teaspoon Schwartz Season It All Mix
Oil
Method:
Bring a pan of water to the simmer and poach your eggs for 6 minutes for soft poached (or until your eggs are to your liking).
Place the tomatoes in a separate hot pan and scorch all sides.
Remove the tomatoes and roughly chop them.
Mix the tomatoes in a bowl with the chilli, spice mix and coriander then add the finely diced red onion.
Season with salt and pepper.
Place the eggs on a serving dish (2 per portion) and spoon over the salsa. Enjoy!
Lunch
Laidback lunchtimes are all the rage! Spend less time in the kitchen and more time catching up with friends over this Grilled Mackerel masterpiece.
Grilled Mackerel, Couscous & Pickled Cucumber
Serves 4
Ingredients:
Iceland Couscous with Vegetables 500g (frozen)
4 Mackerel Fillets (defrosted)
½ cucumber
1 lemon
Salt & pepper to taste
Pinch of sugar
Method:
Peel the cucumber into ribbons and mix in a bowl with the juice from the lemon, a pinch of salt and a pinch of sugar.
Lay the mackerel fillets on an oiled tray and place under a pre-heated grill for 5 minutes or until the skin has blistered and turned brown.
Heat up the Couscous thoroughly in a pan.
Divide the Couscous between 2 plates and top with the mackerel and the lightly pickled cucumber ribbons. Serve and enjoy!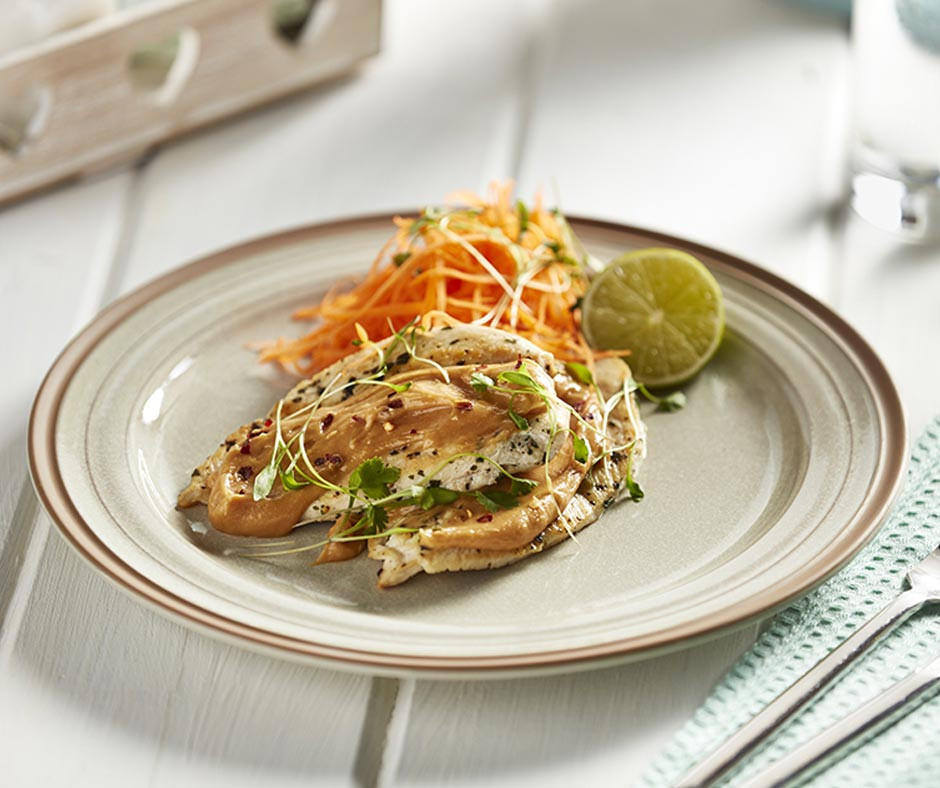 Dinner
This dinner is banging! Easy to prepare and full of flavour – it's Bang Bang Chicken!
Bang Bang Chicken
Serves 4
Ingredients:
1 pinch of red chilli flakes
50g peanut butter
20g honey
1 lime
1 pinch of frozen coriander
4 chicken breasts (defrosted)
Salt & pepper
1 tablespoon of vegetable oil
Method:
Put the peanut butter and honey in a small bowl and whisk until smooth.
Add the chilli flakes and lime juice and mix well. Set the sauce aside.
In the meantime, butterfly the chicken breasts and add the vegetable oil and coriander. Season with salt and pepper and mix well.
Cook the chicken in a non-stick pan until the juices run clear.
To serve, place the chicken onto a plate, top with the Bang Bang sauce and serve with salad.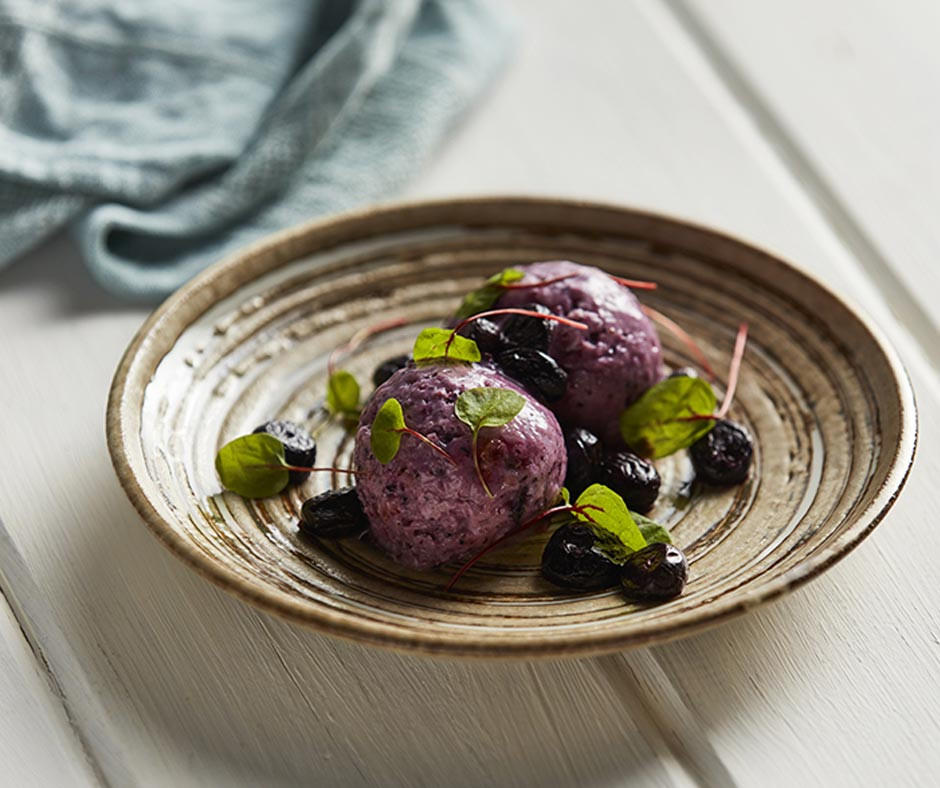 Dessert
Frozen fruit is so handy! Satisfy your sweet-tooth with this frozen wonder.
Blueberry Frozen Yoghurt
Serves 2
Ingredients:
450g 0% fat natural yoghurt
300g frozen blueberries
1 ripe banana
Method:
Keep 100g of blueberries aside and place the rest into a food processor (or a large bowl if using a hand blender) along with the yoghurt and peeled banana.
Puree the ingredients until well combined.
Pour the mix into a container (or loaf style tin) and stir in the remaining 100g of blueberries.
Cover with a lid or cling film and freeze for 24 hours.
Remove from the freezer 10-15 minutes before serving.